Big screen, small screen and recording industry legend and mainstay Cher has designed a range of stunning scarves for VIDA:
"I am excited to be working with VIDA. They present an outlet for artists from all over the world to have their art seen, appreciated and worn. They also have a charitable program built into their company by providing basic education to their factory workers. This is what drew me to them as a company." -- Cher

The 'Strong Enough'-singer tweeted a photo of some of the range, accompanied by her pet cat at her Malibu home: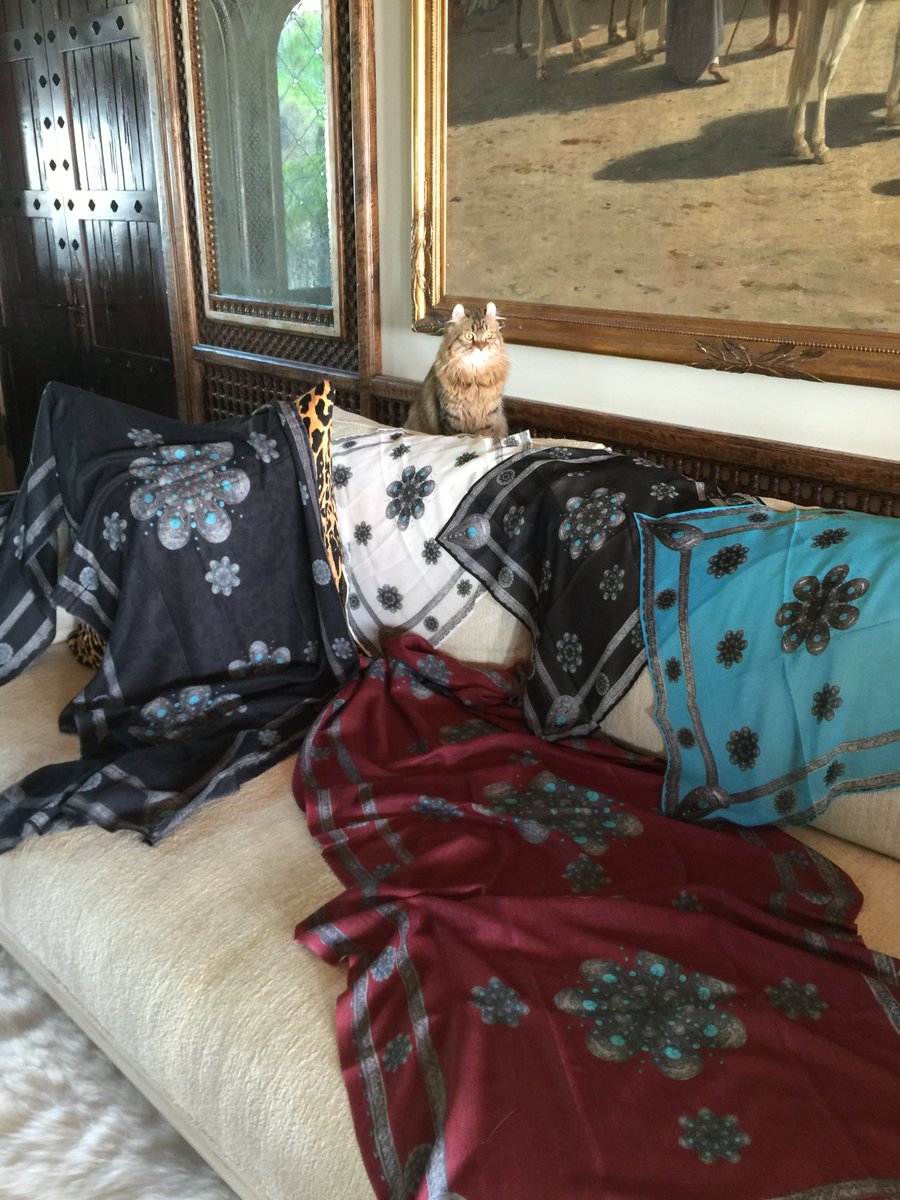 The range of scarves can be viewed
here
.
The Cher Bible, Vol. 1: Essentials, out now:
Amazon US, $7.99:
http://amzn.to/2dYAE58
Amazon UK, £5.99:
http://amzn.to/2dqtuol
Amazon DE, EUR 7,12:
https://www.amazon.de/dp/B01LYZXFLQ
Amazon FR, EUR 7,12:
https://www.amazon.fr/dp/B01LYZXFLQ
Amazon ES, EUR 7,12:
https://www.amazon.es/dp/B01LYZXFLQ
Amazon IT, EUR 7,12:
https://www.amazon.it/dp/B01LYZXFLQ
Amazon NL, EUR 7,12:
https://www.amazon.nl/dp/B01LYZXFLQ
Amazon JP, ¥ 807:
https://www.amazon.co.jp/dp/B01LYZXFLQ
Amazon BR, R$ 24,99:
https://www.amazon.com.br/dp/B01LYZXFLQ
Amazon CA, CDN$ 9.99:
https://www.amazon.ca/dp/B01LYZXFLQ
Amazon MX, $149.99:
https://www.amazon.com.mx/dp/B01LYZXFLQ
Amazon AU, $10.48:
https://www.amazon.com.au/dp/B01LYZXFLQ
Amazon IN, ₹ 399.00:
https://www.amazon.in/dp/B01LYZXFLQ
The Cher Bible, Vol. 2: Timeline, out now:
Amazon US, $7.99:
http://amzn.to/2gQ7KSL
Amazon UK, £5.99:
http://amzn.to/2goSyeO
Amazon DE, EUR 7,12:
https://www.amazon.de/dp/B01MXUAY2K
Amazon FR, EUR 7,12:
https://www.amazon.fr/dp/B01MXUAY2K
Amazon ES, EUR 7,12:
https://www.amazon.es/dp/B01MXUAY2K
Amazon IT, EUR 7,12:
https://www.amazon.it/dp/B01MXUAY2K
Amazon NL, EUR 7,12:
https://www.amazon.nl/dp/B01MXUAY2K
Amazon JP, ¥ 807:
https://www.amazon.co.jp/dp/B01MXUAY2K
Amazon BR, R$ 24,99:
https://www.amazon.com.br/dp/B01MXUAY2K
Amazon CA, CDN$ 9.99:
https://www.amazon.ca/dp/B01MXUAY2K
Amazon MX, $149.99:
https://www.amazon.com.mx/dp/B01MXUAY2K
Amazon AU, $10.48:
https://www.amazon.com.au/dp/B01MXUAY2K
Amazon IN, ₹ 399.00:
https://www.amazon.in/dp/B01MXUAY2K