Travel publication
Passport Magazine's Jim Gladstone & Robert Adams
reported on Cher's return to the stage in her residency Classic Cher:
Do you believe in life after Cher? "This is our last goodbye, it's true," she sang in "Strong Enough," the second number in her thundering glitterstorm of a new show, Classic Cher, which opened last week to a giddy Las Vegas crowd of 5,000 in the Park Theater at the Monte Carlo Resort and Casino.
But who knows what to believe when it comes to comebacks by our dear, dithering diva. After all, it's been a dozen years since Cher announced her official Farewell Tour.
That trek was followed by a three year, 192-show Vegas residency at The Colosseum at Caesars Palace, just down the Strip from her current digs. Then, in 2014, there were five months of Dressed to Kill tour dates.
Now she is back in undiminished splendor with astounding Bob Mackie-designed costumes and over-the-top props, including: a glittery gondola, hunky dancers in gladiator mufti, life-size papier-mâché elephant, and ribbon-spinning aerialists.
Big chunks of the set-list from the Dressed to Kill tour also remain intact, including a sequence of "Gypsies, Tramps & Thieves," "Dark Lady," and "Half-Breed" performed in front of Wild West carnival backdrops, with "Half-Breed" once again sung in a four-foot-long pastel-feathered Native American headdress.
If you're an avid fan, like the dozen-plus Cher-alike drag queens spotted in the opening night crowd, this iteration is a must. The spectacle is scaled for arenas, but because it's being played in a venue the size of a large Broadway theater, the experience verges on ecstatic sensory overload.
Cher is a powerhouse, and the production heavy razzle-dazzle of "Woman's World" and "I've Found Someone" are guaranteed to thrill fervid fans and novices alike.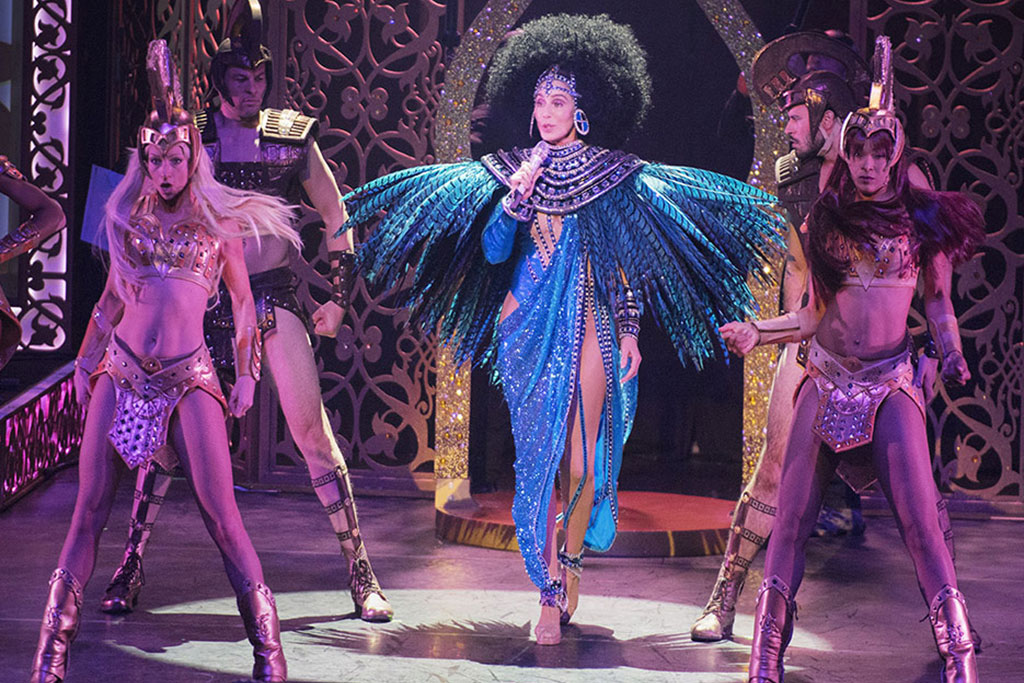 Her costumes and hairdos are eye-popping works of wonder: she enters in an afro wig big and round enough to have its own place in the solar system, and later she wears a spangly pink, mons-anchored garment best described as a full-length vajazzle (look it up).
Yet the most moving moment in her opening night show came when, blonde-wigged and blue-jeaned, Cher delivered a straightforward, deeply resonant rendition of Marc Cohn's "Walking In Memphis." In her eyes, you could see a real engagement with the music and a genuine happiness about performing for an enthusiastic audience.
Before ending the night with an encore featuring "Believe," Cher sang "If I Could Turn Back Time" in a strappy black bodysuit and leather jacket similar to the one she wore in her naval-gazing 1989 video for the song. Her dusky contralto voice, her statuesque five feet nine inches, and her bemused non-chalance amidst a maelstrom of lighting and stage effects are reassuringly familiar as well.
Perhaps for Cher herself, now 70, and for longtime fans, the turning back of time in her show through the use of photos and video clips that highlight her life in music and the movies gives the audience a chance to reconnect with past pleasures and share a joy for living that Cher embodies now more than ever.
Classic Cher is currently scheduled to play the Park Theater at Monte Carlo Resort and Casino in Las Vegas on select dates from now through Feb 25 and from May 3-20. The show will also play at the MGM National Harbor Theater on select dates from March 17-26 and August 31-September 10. For further information and updates on additional performances, visit www.cher.com
READ MORE:
Las Vegas Weekly: Cher Delivered A Consistently Powerful Performance Throughout The Night
READ MORE:
Cher To Appear On CBS' The Talk On Friday
READ MORE:
'Classic Cher' Opening Night! Costumes & Set-List Revealed!
READ MORE:
Billboard: Cher Returns to the Concert Stage With Glitz & Hits (But No Politics)
READ MORE:
A Look At Songs Written By Cher