'Perez Hilton' gathers Cher's best tweets of 2014 so far; 'Cher News' provides a peek at Cher's appearance in People Magazine's latest issue; and young star Demi Lovato gives a brief impersonation of Cher and her best-selling hit 'Believe'.
As well as being an multi-talented International superstar, Cher is renowned for her honest and amusing tweets on social media site Twitter. Popular celebrity website
perezhilton.com
has collected some of the 68-year-old's most notable tweets of this year:
Her tweets are crazier and weirder and funnier than just about anyone else's! For instance:
"Got to go back and polish my Cher impersonation." (August 31, 2014)
"I'm still Tired. During show, I'm A jet engine. After show, I'm like Orville & Wilbur's Plane, after Kitty Hawk. Had big Crush On Wil. Hottie." (March 27, 2014)

"Getting into Epsome salts bath… Aching all over! Just remember that you wanted me, and… I'm... Almost ninety-four! No, thirteen." (March 20, 2014)

"I still look like a transvestite piñata. A piñata on a twenty-foot pillar!" (April 7, 2014)

"Been working hard! I know every butt lift known to man, and a few aliens!" (August 20, 2014)

"I'm having almond butter and sliced apple. Not as good as cake, but I'm on the wagon." (June 2, 2014)
On her 68th Birthday: "Thanks Chickadees. This is a hard for me. I Feel like twenty-five, so the real number comes as quite a little shock. Guess sixty-seven wasn't enough of a clue for my ass." (May 20, 2014)

"Wu Tang Cher Clan." (May 8, 2014)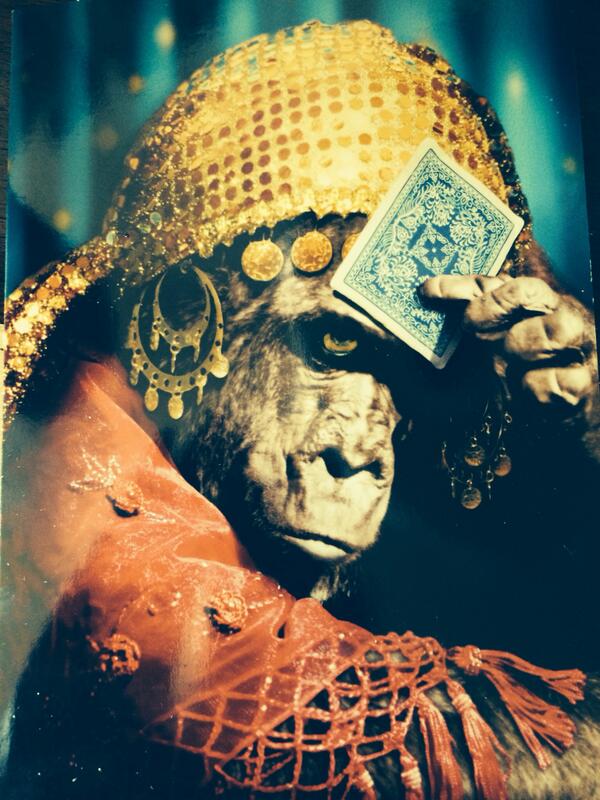 "Played Wii tennis and it occurred to me how bad it is for little kids to be told 'YOU LOST'. Could say 'Better luck next time, keep up good work'. What the f--k." (August 5, 2014)
About the picture, right: "I see a great year ahead… Or... Bananas… It's unclear?" (April 21, 2014)
Moving on...
Fittingly, Cher is featured in the "Fall 2014" "Gorgeous at any age" issue of People magazine. The popular publication features a pictorial, entitled 'Cher Then & Now', of the 'Woman's World' singer.
It compares recent photographs of the ageless star in some of her latest tour costumes with past photos of her in similar outfits, dating as far back as the 1970's. (Photo of Cher pictorial courtesy of
@Ro_One_And_Only
)
And finally...
Young songstress Demi Lovato is clearly a fan of showbiz legend Cher - in February, she tweeted, "Random thought that pops into my head all the time: I really wish that I was friends with
@cher
."
She demonstrated her love for Cher this week with a not-too-shabby impersonation of the 'Believe' singer during a Q&A session:
Short shares:
Cher tweeted, "Thinking about one of the most amazing smiles ever... My friend John Travolta. I've known him since 'Welcome Back Kotter'. Such a sweet boy."